Engagement Snapshot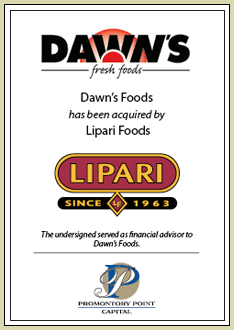 For over 50 years, Dawn's Foods has been producing quality, great tasting food products sold throughout Wisconsin and the upper Midwest. The Company's major product categories include deli salads, pasta salads, sour cream dips & spreads, ready-to-eat gelatins, and assorted desserts. Besides being marketed under the well-known Dawn's brand, the Company produces a wide variety of food products under private-label relationships that are directly sold to deli operators, convenience stores, and through other distribution channels.
Wisconsin-based Dawn's Foods had been owned by the Soderholm family since 1975 when they acquired a majority interest in the Company. The Soderholm family also owned a well-known wholesale food distribution business, and the two businesses together have provided Midwest grocery retailers access to a wide variety of niche food products. When the Soderholm family decided it was time to explore a sale of Dawn's Foods, Promontory Point Capital was engaged as financial advisor.
After gaining a thorough understanding of the owner's objectives, it was clear to PPC that the most attractive buyer would likely be one that would have an interest in acquiring both of the family's two businesses. PPC designed and executed an engagement strategy that included marketing the Dawn's Foods business to a mix of strategic and financial parties that had an interest in producing and/or distributing niche food products. In conjunction with their acquisition of the Soderholm Wholesale Foods distribution business, Michigan-based Lipari Foods acquired Dawn's Foods at the end of 2014.